Oxypas Professional Footwear
Oxypas Professional Footwear for comfort, safety and trend!
We are the sole distributor of Oxypas Footwear in Ireland.  Oxypas shoes are ideal for a number of professional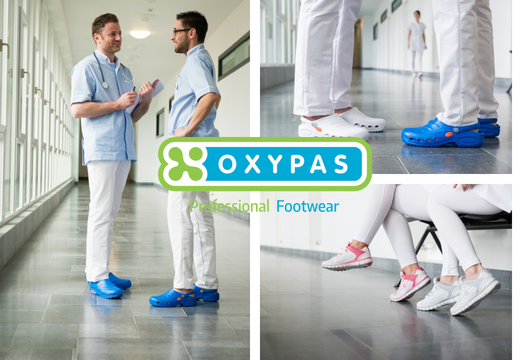 environments from hospitals, care homes and institutes to spas, veterinary clinics, doctor surgeries and theatre.
Oxypas has been designing and providing safe & comfortable work shoes for nursing staff and care professionals for over 20 years.  These shoes make you look trendy without compromising comfort and safety.  You can even choose a pair to reflect your personality. 
Oxypas benefits
These shoes are equipped with technical benefits that are important for medical professionals:
CE Standard
Anti-static ESP to prevent static electricity build-up
Shock absorbing & ultra light for all day comfort and insoles to absorb shocks
Slip-resistant outsoles
Removable insoles to renew insoles on a regular basis
Easy and quick maintenance with a cloth
Oxypas offers you

More Safety:  thanks to equipment that is adapted to the risks and requirements of your job (CE-certified, non-slip, anti-static etc.)
More Comfort: Thanks to ultra-light shoes that improve a healthy posture and help to prevent backache.
More Style: with models in leather and wood, pastel or flashy colours, add a colourful touch to your outfit.