Annual Servicing of Fire Prevention Equipment
Fire Extinguishers save lives and businesses
Is your equipment fully compliant with Irish law? Let our fire safety engineers put your mind at ease by helping you to carry out your responsibilities to your team and your customers.
Fire extinguishers are vital pieces of safety equipment which can save lives and businesses by preventing small fires developing into full-scale disasters. Every year in Ireland over 23,000 fires result in personal injury, damaged property, business down-time and even death.
Not only should you have fire extinguishers in your workplace, you should also have them serviced annually.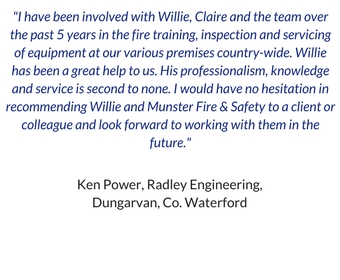 WHY?
It's the law under the Fire Services Act 1981 (2003) and the Safety, Health & Welfare at Work (General Regulations) 2007.
Regular servicing ensures that your equipment will work properly in the event of a fire.

WHY MUNSTER FIRE & SAFETY?
We are in the top tier of fire safety providers in Ireland – all your equipment will be installed by experienced and competent BAFE certified engineers.
Maintenance will be carried out in accordance with Irish Standard IS291 and British Standard BS5306.
We will always make an appointment with you before carrying out maintenance AND we will always advise on the cost and get your approval before carrying out any of the work we recommend to you.
We carry out a minimum of 25 checks per extinguisher as per our Service Engineer Procedures Manual
We will certifiy that we have inspected and serviced your equipment and keep necessary records on file.
We will inform you when your next service is due

Your business could be eligible for a FREE fire safety health check. Call 029-71288 now to book an appointment or click below:

Are you compliant with regulations under the new Irish Standard?